The Best Swimwear for Small Busts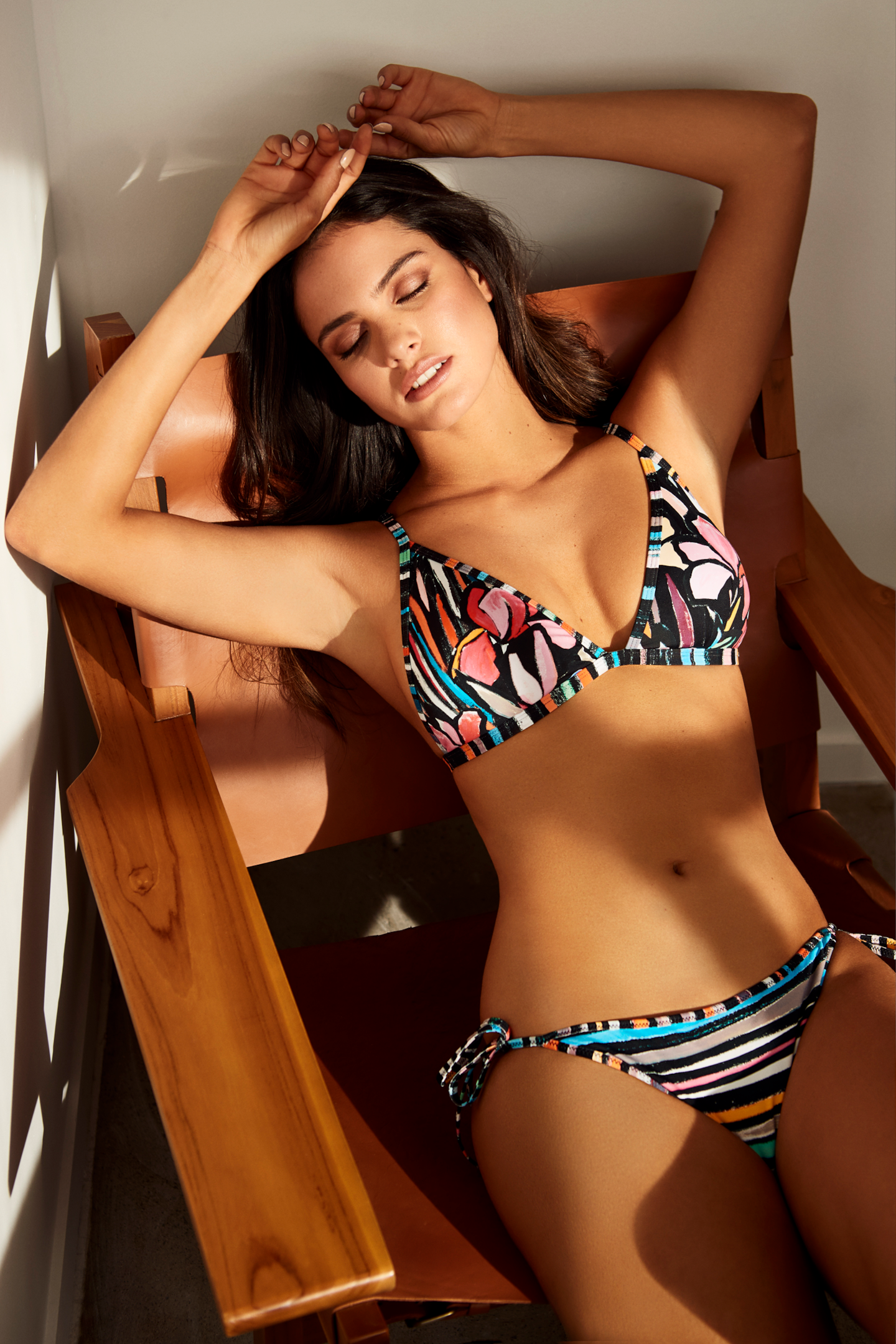 We can all feel a bit self-conscious about our bikini body sometimes.
Swimwear shopping can be challenging whatever your bust size and if you are smaller on top it can sometimes be difficult to get the right fit.
Whatever style you choose, it needs to be comfortable, well fitted and above all, flattering.
When you feel good, you look good! We've created the ultimate guide on the best shapes and styles for small boobs.
If you're happy with your size and want to find out which designs will suit you best or if you want advice on boosting your assets, then this guide is perfect for you!
Read on for our top tips on the best swimwear for the smaller bust and check out some of our favourite designs that are perfect for women with a small bust.
Cup-sized Swimwear and fully adjustable designs
Often women with small boobs find a swimsuit will fit on the bottom but will be too big on top.
No one wants a gaping neckline!
Our top tip is to look for cup-sized swimsuits, bikini and tankini tops.
Cup-sized swimwear is specifically designed for your bust size, whether you're an A cup or a G cup and will give you that proper bra fitting.
But remember, there are some classic designs out there where a standard dress size will give you that perfect fit too.
Try tops and one-pieces that are fully adjustable to your chest size with a tie fastening at the neck, or better still, across the back too.
This will ensure that you get the right fit and feel comfortable and confident in your swimwear.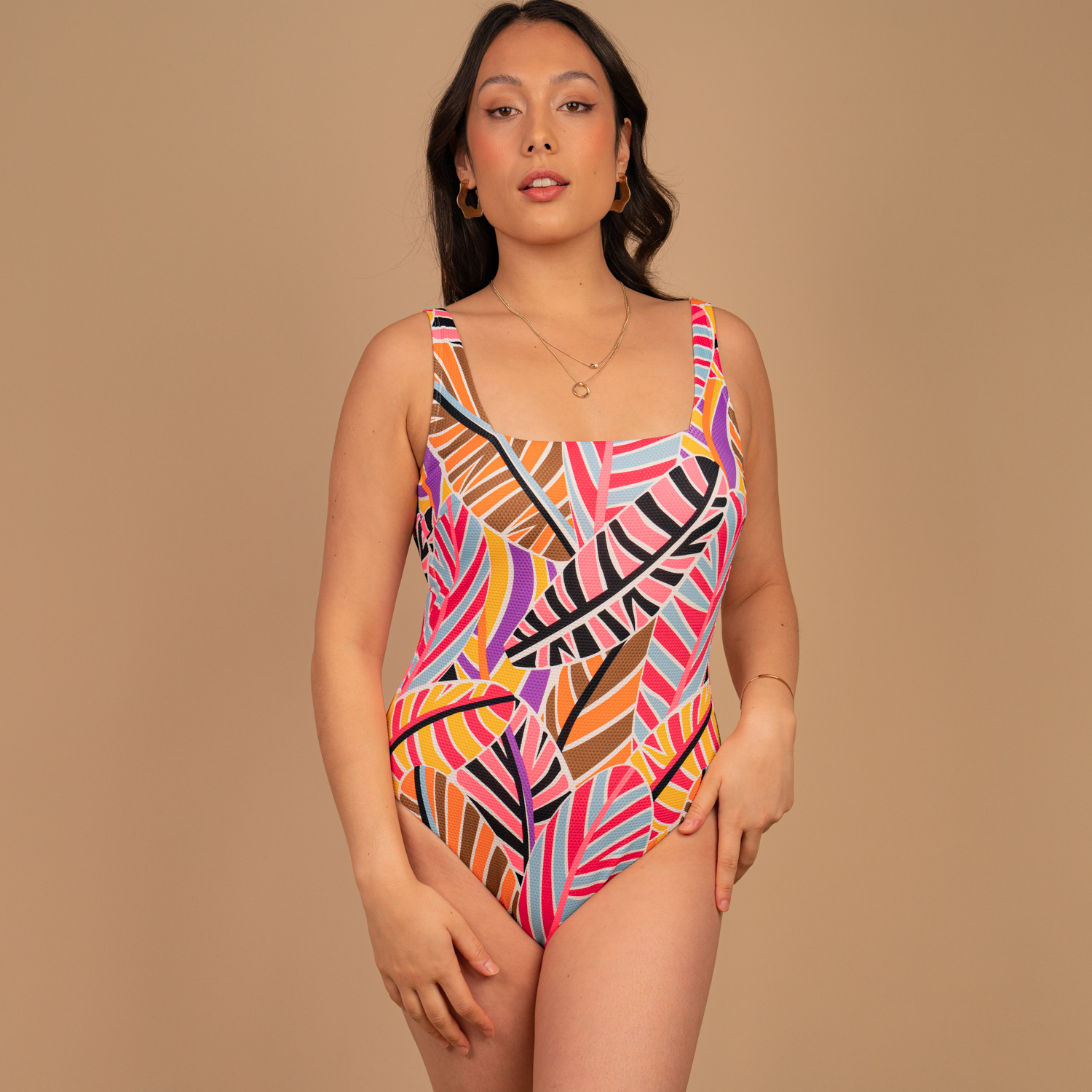 The Perfect Swimwear styles for small busts
The best styles are those that focus the attention on the upper body.
The best non underwire bikini for smaller boobs are the triangle bikini top – adjustable straps will help you get the perfect fit, triangle bikinis are universally flattering for the small chested
You can achieve this through the design, detailing, texture and print or colour.
This will create the visual illusion of a curvier top half.
Anything that balances your proportions and focuses on the bust area will work for you.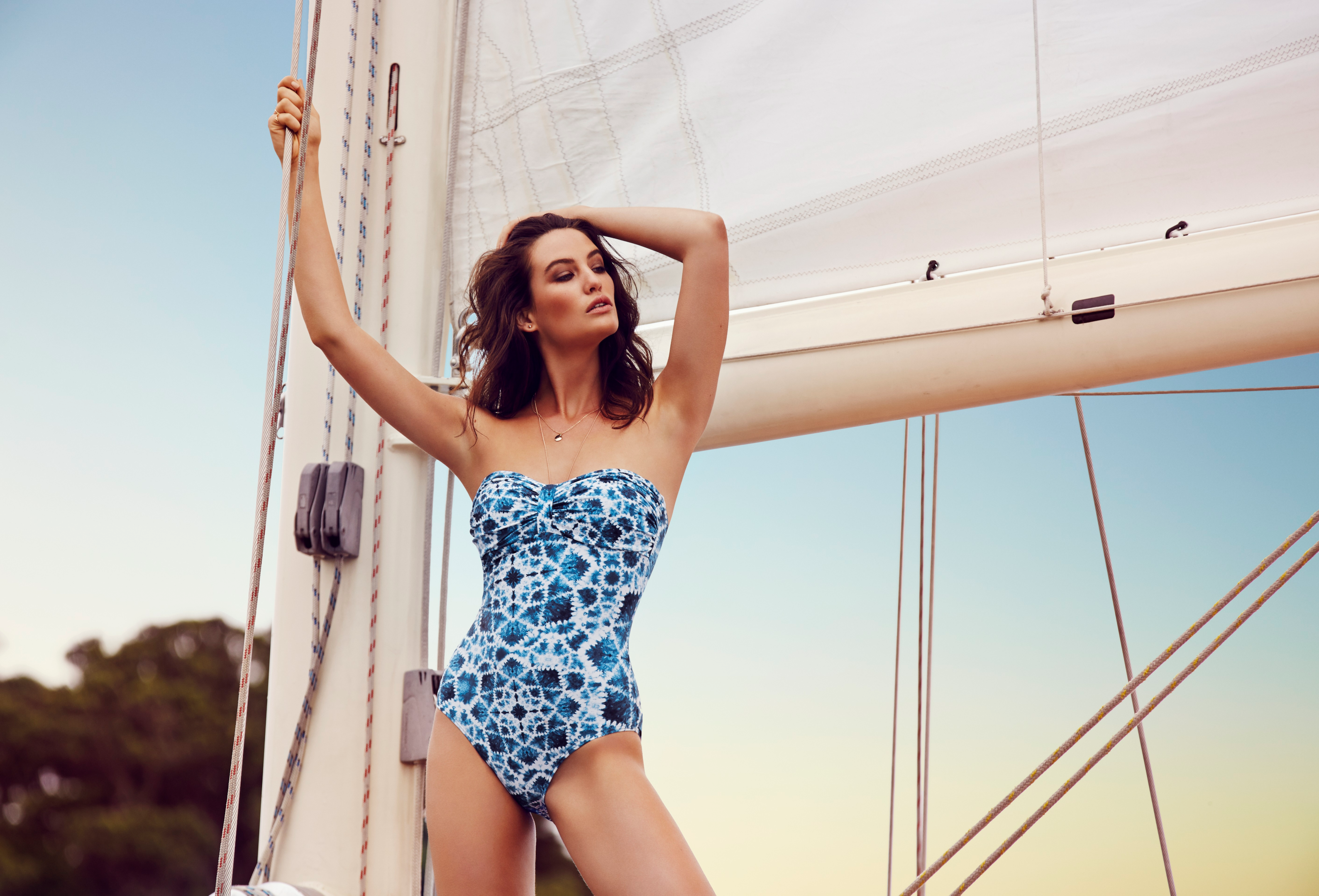 Embrace what you can wear
Cutaway one-pieces
Plunging necklines
For starters you have an advantage – you can pull-off all those tiny tops and unique styles.
As smaller boobs require less support, you can get away with the more daring models such as cutaway one-pieces, a triangle bikini or a bandeau bikini .
A deep-V neckline is the perfect style for small boobs as well as it draws the eye to the centre of the chest and gives the illusion of a fuller bust.
A padded plunge will offer a push up effect will boost your cleavage too!
Bikini tops for small bust sizes
A small bust looks great in so many different styles of bikini tops.
The right bikini top can also give you a curvier bustline and enhance your cleavage.
When it comes to buying bikinis you have more choice of styles than someone with a bigger bust. You are so lucky!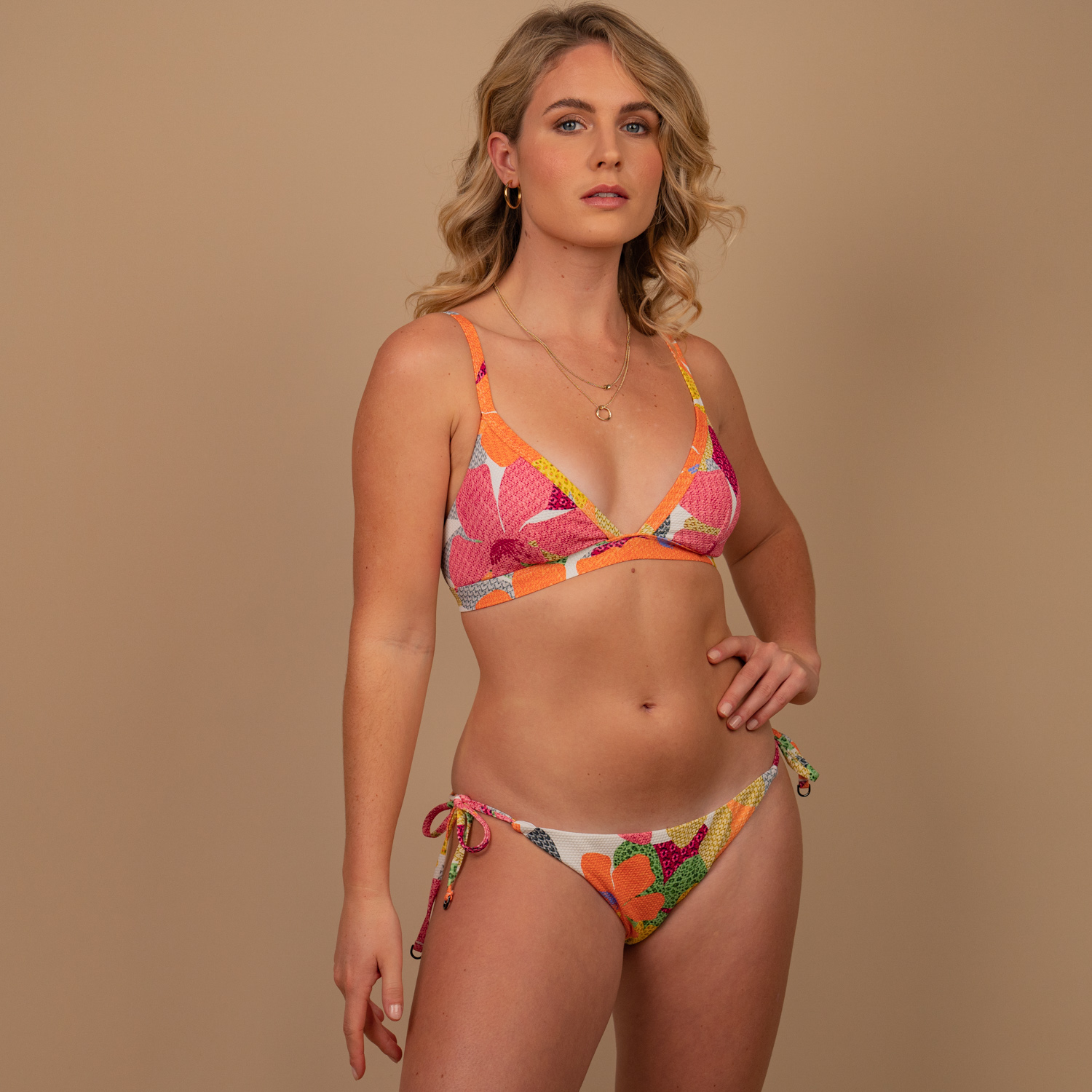 The Best non-wired bikini tops for a small bust
Triangle
Bandeau
Halter
Tie-front top
High Neck
Sporty scoop-neck
Without any boosting or padding, the Triangle bikini top is the classic minimalist and bust enhancing design.
Absolutely perfect for highlighting small boobs, the simple triangle creates a curved line on the chest making the bust appear fuller.
This design draws the focus to the centre of the chest where the base of the triangles meet. They are a particularly flattering style on a small chest so this is a fantastic choice for you.
Women with small breasts also look particularly good in a bandeau bikini.
Halter tops are great too! They add cleavage and lead the focus upwards towards the neck.
A halter top will also give you great, adjustable, light support and shape.
Choose one with a back and a shoulder tie so you can adjust them to get the fit just right.
Other flattering options are high neck top tops or a sports bra type scoop-neck top which offers light support without the need for underwiring.
Boost your bust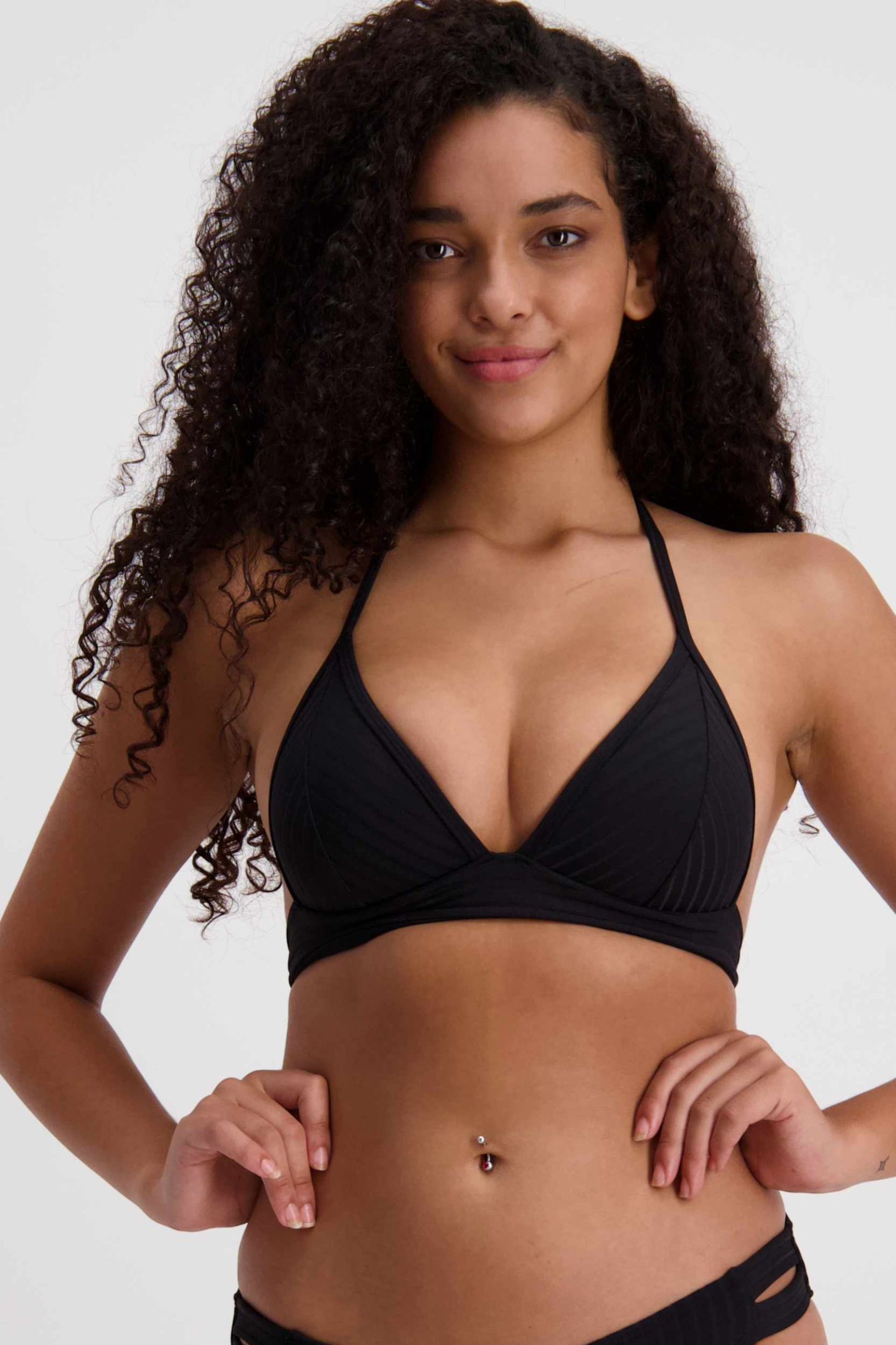 Padding
Bustier or push-up necklines
Underwiring
If you're not happy with your size and want to give your bust an extra boost there are lots of options.
Try a fully padded bikini or a push-up booster style.
These add volume to your bust and amplify your bust.
A light padding will give you a natural lift but if you want that extra padding and to look a cup size or two bigger, go for it!
You don't require underwiring and strong bust support but if you're more comfortable with a structured top, that's fine, it will give you more shape.
Underwiring does create more cleavage and will provide support, structure and lift. Look for models that combine padding and underwiring for the ultimate boob boosting look.
A padded, underwired sweetheart neckline is the perfect example.
Choose bold patterns, colours, and styles to further emphasise your bust.
Ruffles, textures and prints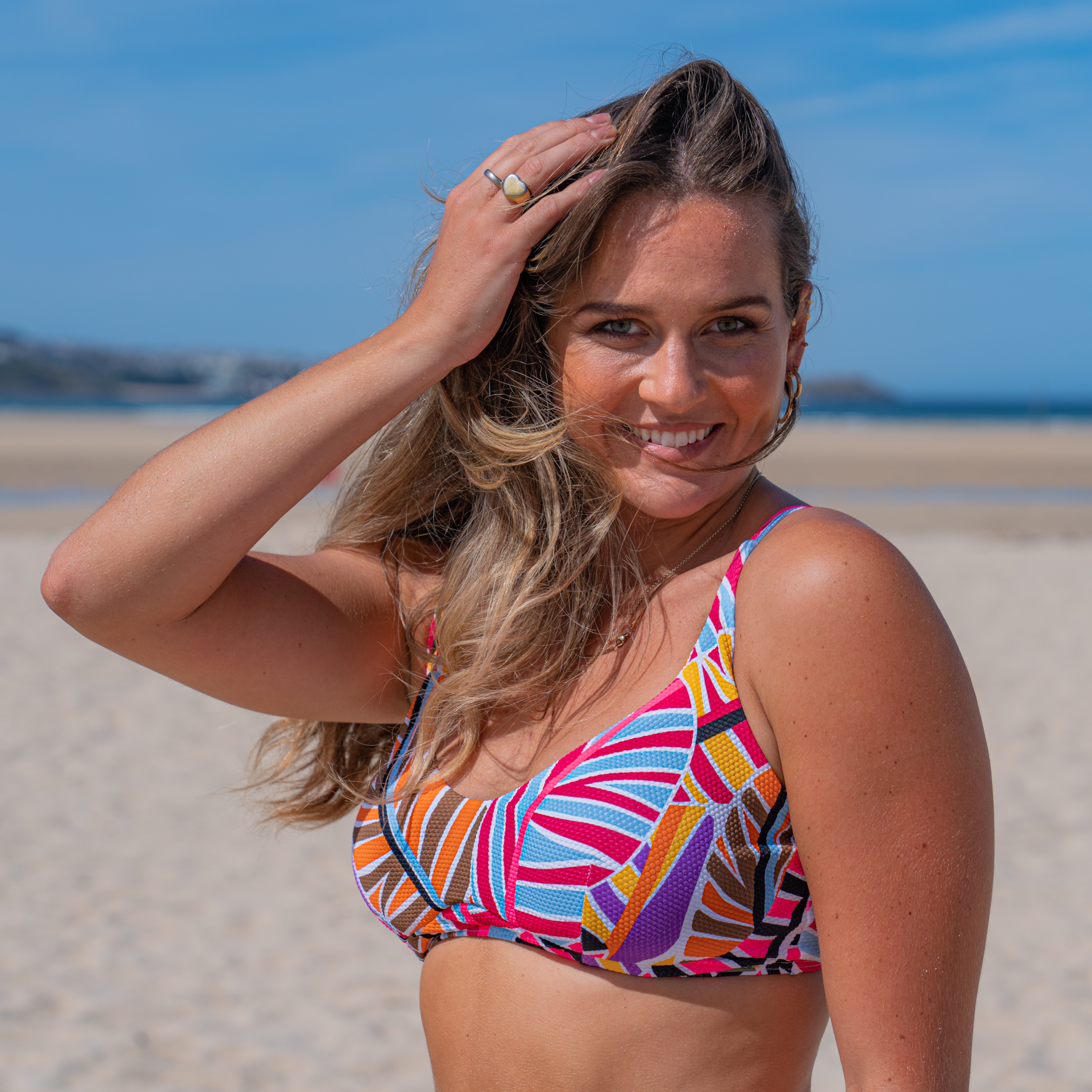 Front knot detail
Ruffles, flounces, fringes
Textures
Vibrant patterns, prints or colour
Gathered or ruched cup
Detailing and textures can really draw the eye to the upper body and visually increase chest dimensions.
If it's the fuller chest look you want, then the more eye-catching the better!
Embellishments are your friend. A front knot detail puts the focus on the centre of your chest. Try a tie-front top. It will also amplify your cleavage.
Flounces, fringes and ruffles will all add volume to the upper body and enhance your silhouette.
Ribbed textured fabric, bold prints or vibrant patterns or colours can all distract the eye. All these extra details increase curves and add femininity.
Try one-pieces with embellishments on the bust, asymmetrical swimsuits and deep plunging necklines.
Think eye catching prints over the bust area on simple classic designs like the triangle style or halter top or padding and underwiring to boost your assests.
Feminine details and frills and textured cups are all really flattering on a smaller bust.
Here at Moontide we have a huge range of bikini top styles that suit a small bust; triangle, halter, bandeau or cup-sized, underwired and padded.
We sell bikini tops and bottoms separately so if you're a different size on the top and bottom you can always achieve a perfect fit and be sure to look and feel sensational on the beach this summer.